Parigi 02-06 2016 Elegant hall 4 – Stand E55
A longing for the sea is a feeling many of us know well. It's no wonder then that maritime themes influence many design classics. In particular, the "Long Island Style" inspired by the Hamptons in New York – which the Americans also refer to more generally as "Coastal Style" – is a traditional summer favourite. Natural wood, simple patterns and light blue and white tones give a sense of freshness and lightness to the home. But "Coastal Style" offers much more! This year, manufacturers are breathing new life into the look and presenting interiors and attractive accessories that bring the feel of the sea into the whole house – from kitchen to bathroom.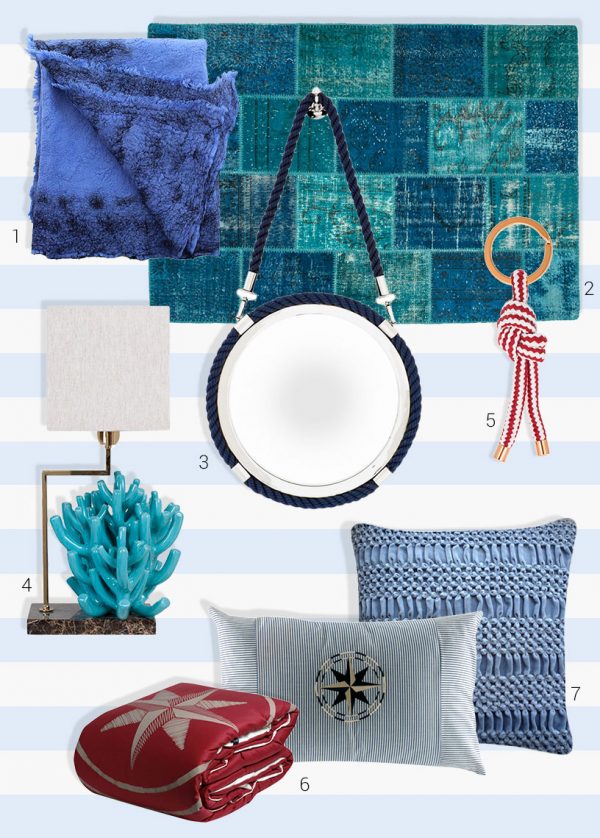 Earrings from Dur
Shower curtain from Cubic Products
Room fragrance from Chando
Case from Frohstoff
Container from Riccio Caprese
Jewellery organizer from Koziol
Nailbrush from Kikkerland
Container from Alessi
"Under the sea" – diving into the bathroom
In no other room is the maritime theme as evident as it is in the bathroom. Design ideas here are no longer restricted to the obligatory bowl of sand and shells. The delicate illustrations on the shower curtain from Cubic Products portray with stunning beauty the wildness of the sea. Interior design fans who dive into this season's new ideas will discover how functional the underwater world can be.
Nailbrushes in a playful whale-look from Kikkerland are bound to bring a smile to the faces of young and old alike. Beauty utensils can now be found in coral-shaped boxes and metal baskets. A fresh breeze is created by the room fragrances from Chando whose luminescent turquoise-blue flacons are adorned with starfish and seahorses.
Plaid from Leingrau
Rug from Kayoom
Mirror from Eichholtz
Table lamp from Riccio Caprese
Key fob from Gift Company
Throw and cushion from Marine Business
Cushion from Ernst Denmark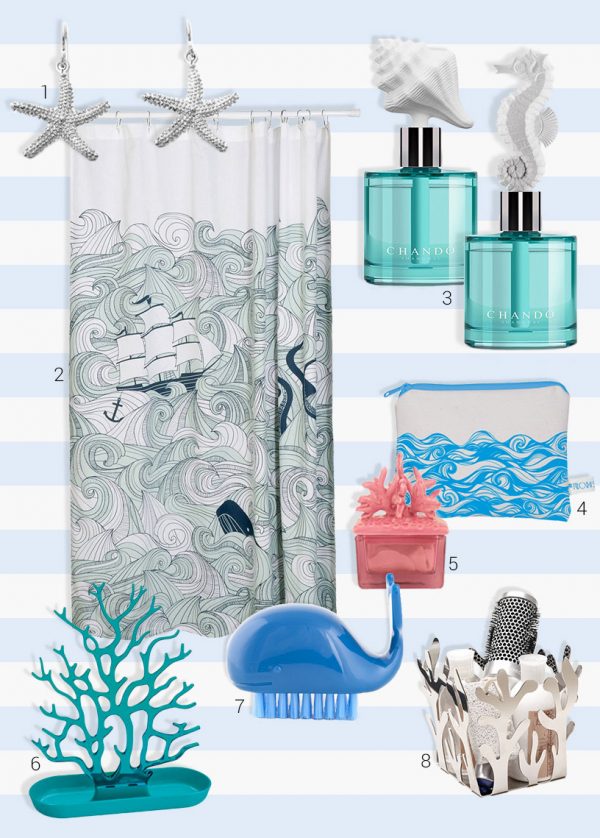 Ahoy, sailor! Live like a seafarer.
In terms of interior design and bedding, we're leaving the coast this summer and heading out on a grand voyage of discovery on the open sea. Nautical emblems and symbols, particularly compass motifs, decorate throws and cushions and awaken a desire for adventure. Round mirrors held in place by cords are reminiscent of portholes. The trend colours are based on the successful recipe of the "Coastal Style" look. Stripes in marine blue and white and their counterparts in red and white are currently enjoying a strong comeback. Rugs on the other hand come in luminous turquoise and shimmer like the surface of the sea with white threads woven expertly into the material. It's almost as if the light is being refracted into its individual elements.