A taste of Caprisian summer at Maison&Objet 2022 in Paris
Last month,
Ricciocaprese
showcased its new collection of luxury design objects at
Maison&Objet 2022
in Paris, France.
Running from March 14th-18th, the biannual fair celebrated the latest in furnishings and accessories and set the ultimate interior design trends for the upcoming season.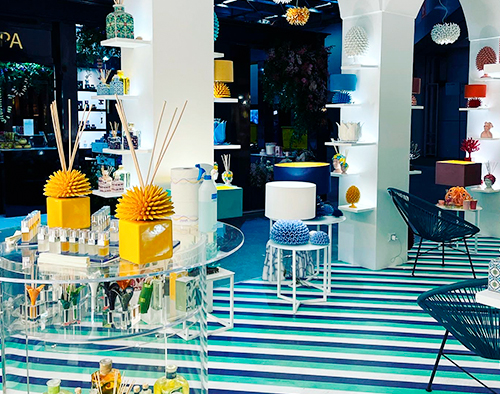 Alongside the world's top interior design brands, Ricciocaprese presented its take on the expo's spring-summer theme "New Luxury: From Uber Luxury to Lux Populis."
The design boutique from Capri, Italy, left the event visitors yearning for Italian summer with its colorful design objects and handmade fragrance diffusers in the shape of islands's iconic sea urchins.
As a Maison&Objet participant since 2010, the Ricciocaprese brand is particularly recognized and appreciated in France.
The signature Riccio piece, in all shapes and sizes, has become synonymous with holidays in Italy, adding a touch of the Mediterranean to your home no matter where it is located.
The boutique takes its styling cues from The Island of Capri with its lush-green vegetation, deep blue Neapolitan Sea and flowered terraces.
Even with a single Ricciocaprese decor, you can add a little Mediterranean personality to your home, giving a whole new feeling to your favorite space. 
With the elegant touch of a Ricciocaprese centerpiece added to your go-to table settings, you can turn your friendly get-together into a spot-on Italian aperitivo and have your guests asking about your recent trip to Capri.

Whether for that special occasion or your weekly Sunday brunch, let yourself indulge in your finest Ricciocaprese porcelain, available in The Island's traditional hand-blended colors – aquamarine, coral red, limestone white and more.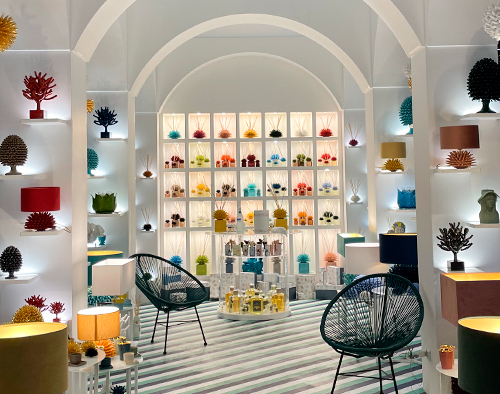 According to founder Imma Sarnacchiaro,

"Ricciocaprese is Capri at its boldest and best. Just like the island, it is playful and elegant and has a timeless feel to it. Each piece is an opportunity to relive the slow-paced magic of Southern Italy at your home, with its unique colors, lights and scents."
In line with the latest Maison&Objet theme, this season's must-haves by Ricciocaprese range from Uber Luxury to Lux Populis, with elaborate lighting pieces on the higher end of the spending spectrum and a pop, color-soaked fragrance collection, from which everybody can choose a little something to remember their Mediterranean trip by.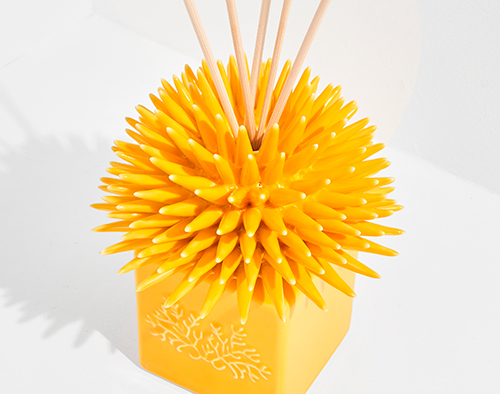 Housed in a handmade sea urchin vase, these vibrant scent diffusers will help you stay in sync with the Italian holiday mood and add a stylish accent to your home.
All diffusers are artisanally produced in-house using ceramic, except for the Bella Femmina collection that is made of porcelain, taking inspiration from the century-old Italian maiolica pottery.
The most popular Ricciocaprese fragrances include Capri fig, basil and mint, saffron and raspberry and local garden flowers.
Ricciocaprese takes pride in its "Made in Italy" label, blending impeccable style with top-quality craftsmanship. Each piece is handmade by expert craftsmen and ceramic designers from the Capodimonte Art School in Naples, Italy.
Since Ricciocaprese's debut at Maison&Objet in 2010
, Ricciocaprese has matured into the must-visit Italian brand when visiting not only the Island of Capri but the one and only Maison&Objet. The Brand has gained particular traction among Parisian designers and collectors, looking to bring the feeling of Italian summer into their projects.
If you happen to have missed Ricciocaprese at the latest Maison&Objet expo, you can visit the showrooms in Capri and Naples in person

or shop The Brand's original designs online.